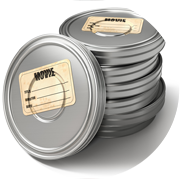 Once your microfilm is developed the most important factors that will affect its availability for future generations are storage conditions.
World Archives' vault meets the highest ANSI/AIIM Standards:
Temperature :  We maintain our vault at a constant year around temperature of 60 degrees Fahrenheit.

Humidity :  Our vault is dehumidified to maintain a constant 50% or lower relative humidity.

Fire-protection :  Our vault is specially constructed with two-hour fire burn through protected walls and ceilings and a concrete floor. The vault has a steel fire door with vapor seals for exceptional burn through protection. An internal sprinkler system protects your film and our entire building has a fire detection and burglar alarm system.

Flat Storage :  According to ANSI specs all microfilm canisters are to be stored lying flat. If the canisters are stored on edge (as many do) the gelatin coating that contains your images will migrate from spindle pressure - eventually blurring the images.
World Archives only stores canisters flat.

Molecular Sieves :  Air borne contaminants are a primary cause of premature degradation. In every canister we place 3 packets to scavenge moisture, acetic acid, and other harmful contaminants from the microenvironment surrounding your film. No other newspaper archivists go to this length to ensure the safety and long-term health of the microfilm entrusted to them.